Customer Reviews
03/01/2022
Kimberly

Singapore
I recommend this product
Best Kimchi Ever
Slightly tangy, punchy in flavour, not too overly spicy. Fresh and crisp, perfect for eating on its own (I ate half a jar on my own as a snack). Wanted to attempt making kimchi pancakes with it but I finished it so quickly; I guess kimchi pancakes would need to wait. The only thing I regret is not buying more than 1 jar/get the bigger one. Small one is definitely not enough for such amazing flavours.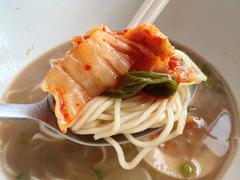 02/23/2022
Heng G.

Singapore
I recommend this product
Sibey Tokong Kim Chi
안녕하세요 annyeonghaseyo I am always looking for a shiok tasting kim chi in NTUC/ Sheng Shiong/ Cold storage/ mustafa/ Hao mart but got disappointed, heart broken and sibey sian as all got/kena fish sauce and bonito added to it. Found Loaded Gun and thus happy to support her overflowing creative culinary skill. Thus, the story continues......I have been her supporter for years...(but wallet pains sometimes) PS: Give it a try, damn shiok, no ********!
02/21/2022
Jen

Singapore
I recommend this product
Amazing kimchi!!
Perfectly seasoned - great as a side with any meal and as a snack on its own!